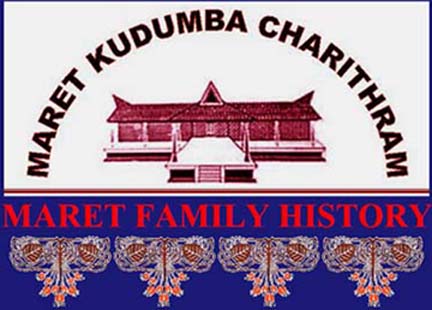 |
Home
|
Heritage
|
Family Tree
|
Mundolil Upashakha
|
Manayammannil Upashakha
|
Maret Upashakha
|
A Happy Occasion
|
Maret Kudumbayogam | Maret Kudumbayogam Schedule | Vadakkethalackal Mahakudumbam | Photo Gallery | News & Events |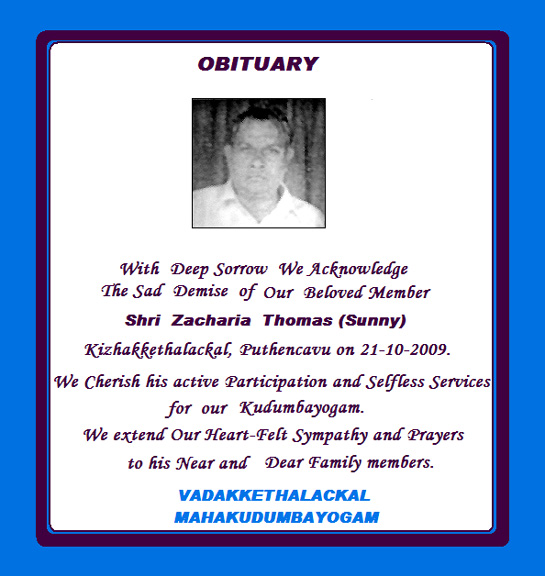 H. G. THOMAS MAR ATHANASIOS METROPOLTAN
CELEBRATING SAPTHATHI
Heartiest Felicitations To His Grace
Thomas Mar Athanasios Metropolitan
On His Grace's Sapthathi Year
From
Maret Kudumbayogam

Dear Family Members,
As you may be aware of by now, we are going to have an official Web Site of Vadakethalackal Mahakudumbam in the near future and a tentative decision has been taken in this regard in the last Central Committee Meeting held at Puthencauve. For the initial preparations of Web Site Building, a team of six members have been nominated with myself (Josey Oommen, Maret, Tiruvalla, Mob. No.9447249512, E-mail: joseymaret@yahoo.com) as the co-ordinator.
Detailed discussions are yet to take place. But in the mean time may I request all our members who may come across this Home-Page to send in all relevant informations and Photos they may like to be incorporated in the Family History, as attachments to the above e-mail address or through the central committee members of the SHAKHA concerned. However, the second Eddition of Vadakethalackal Kudumbacharithram will be taken as the basic source of information during the initial phase of our work and updating will follow at a later stage, to avoid endless delays to go on the net.
Regards,
Josey.


An Enlightening Quaterly Magazine Published by
Vadakkethalackal Maha Kudumbayogam
( For internal circulation only )