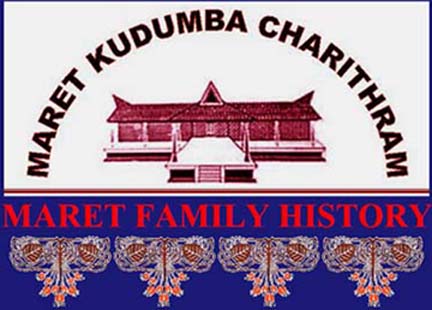 |
Home
|
Heritage
|
Family Tree
|
Upashakha
|
A Happy Occasion
|
Kudumbayogam | Kudumbayogam Schedule | Vadakkethalackal Mahakudumbam | Photo Gallery | News & Events |

MUNDOLIL UPASHAKHA
(Mundolil Branch)

OOMMUMMAN:***

Was born in the year 1002. Achamma, Pallipeedikayil was his wife. He died at the age of 28 in the year 1030.
Oommumman*** had one son and two daughters: Ninan****, Aleyamma and Achamma.
Aleyamma was married to Fr. Ipe Thomma (Kovoorachan) who was vicar general in Mar Thomma dinomination.
Achamma was married to Poothicottu family, Mepral.

NINAN****

Ninan**** was intelligent and owned quite a lot of properties. He married Achiyamma D/o Philipose, Kallasseril and they had three sons: Oommumman****, Philipose and Ouseph, also three daughters: Acharu*, Aliya and Aachi. He was burried in St.Mary's Church, Kallooppara.
Acharu was married to Mathuchan, Manalil, Tiruvalla.
Aliya was married to Kochukunju Muthalali,Kurumthottickal, Ayiroor
Aachi was married to Varkeyechan , Poothicottu, Mepral.


OOMMUMMAN****(Punthalathazhathu Vydyan):

was a very intelligent and able person and practiced Ayurveda. He was a specialist in Ayurvedic eye treatment and have cured many cases which other doctors could not. He was also highly literate in sanscrit and was one of the founding membesrs of the present M.G.D.High School, Puthucherry. Achiyamma D/o. Mathayichan, Kochupynummoottil, Tiruvalla, was his wife.
He had four sons: M.O.Ninan, M.O.Mathai, M.O.Abraham and M.O.Ommen And five daughters: Achikunju, Kunjamma, Annamma, Marayamma and Alikutty.
Achikunju was married to Kochupappy, Poovathur, Chengannur.
Kunjamma was married to Alexander (Advocate), Tharakantangu, Kayamkulam. Annamma was married to Cherian, Kottayil, Athirampuzha.
Mariamma was married to Kunjoonju, Modayil, Karukachal.
Aleykutty was married to Devasya, Athirumpuzha, Changanachery.

M. O. NINAN(Kunjoonju):
He was an accomplished practitioner in English Medicines (Allopathy) during his times. He married Pennukunju from Irampallil, Kalloppara. Ninan died in 1941 at the age of 40 and Pennukunju died on 1-12-1990 and were laid to rest in Iettickal Church.
They had two sons: M.N.Abraham (kunjoonju) & M.N.Georgekutty (Thankachan) and five daughters: Thankamma, Kunjamma, Aleykutty, Ponnamma & Kunjumol.
Thankamma is married to Appachan, Palakkunnel, Mammoode, Changanacherry.
Kunjamma died at a very young age.
Aleykutty was married to Sebastian, Polackal, Changanacherry.
Ponnamma is married to Chackochan Kadambukattil, Pala.
Kunjumol is married to Mathukutty s/o. Thomas, Idanattu, Changanacherry.
M. N. Abraham (Kunjoonju): After passing ESSLC he joined Indian Army in Signals as Telemech and served the Nation for a long time. After retirement, came back home and looking after domestic matters.
Wife Lucy is the daughter of Thommachan, Idanattu.
Have a son by name Tom and two daughters; Elizabeth & Mary.
Elizabeth is married to Joseph (MTech) Thekkeveettil, Cochin.
Mary (B.Sc.) is married to Babu s/o. John, Nattakkulangara, Ettumanoor.
Tom: Working as medical representative; Wife is Latha and they have a son
M. N. Georgekutty (Thankachan): After passing SSLC, took diploma in Electrical Engineering and joined Bhilai Steel Plant as a Forman. Afterwards he left for Gulf and is working under the Ministry of Education in Oman. He was very active and involved in Social, Political and other Organizational matters in his early days.
His wife Annie (B Sc.) is the daughter of Kuriachan, Pullamkulam, Changanacherry. She was working as Section Supervisor in Telecom Department. After retirement she is now taking care of family matters.
They have three sons: George N Maret (Saji), Kurias G Maret & Subhash G Maret and three daughters: Rani, Sonia & Shyni.
Rani is married to Binoy Zachariah s/o. K. J. Zachariah, Kanjikkal, Pulinkunnu.
Sonia passed D Farm and Shyni after passing M Com. Working as a teacher in Chengaroor Convent.
George N Maret (Saji) - M. Com., PGD Ft. M.: After education he was working with Rallis India Ltd. Bombay for some time. Afterwards he joined Manav Remadies Ltd., Bombay as Asst. Marketing Manager. Now he is working in the Middle East.
He has also served as Director, YMCA, Puthusserry, President, Maret Youth Wing, & Maret Kudumbayogam Secretary. He is a good Orator and Organizer.
Kurias G. Maret: After education he was working in Gulf for some time. Now he is taking care of family matters. He is the secretary of Maret Kudumbayogam and also the Joint Secretary of Vadakkethalackal Mahakudumbayogam.
Subhash G. Maret: After education working in Ernakulam.

M.O.MATHAI(Mathaichan):
He was a graduate and joined excise dept. as a petty officer. After retirement he was taking care of family matters for some time. He died at the age of 85. Wife Annamma was the daughter of Kuriachan, Kunnumpurathu, Puthenkadavu.
They had a son by name Oommen (Thankachan) and three daughters: Baby, Gracy & Lisy. Baby is married to Moncy, Vanvilayil, Punalur.
Gracy is married to Kuttykunju, Kavilamputhuparambil, Changanacherry.
Licy is married to P. C. Koshy, Paramadayil, Kozhencherry.
Oommen (Thankachan): Being the only son, taking care of family matters. Wife Ammini is the daughter of Poulose, Moothedam, Kallooppara. They have only one daughter by name Anu and she is married to Aniyankunju, Valakuzhiyil, Mallappally.

M.O.ABRAHAM:
He went to Cylone while he was still a student and settled there.( No information was available about him for quite some time.) Later on he became the Manager of a group of Estates owned by a British Company. He got Citizenship there and married a native Lady.
They had two sons and two daughters.
He died there and was laid to rest in Cylone. (Information about their children not available

M.O.OOMMEN(Oommachen):
He worked as a petty officer in excise department. He married Kunjamma D/o. K.C.Chandy, Chandanaparampil, Payippad. They had a son by name Joy Oommen and three daughters; Molly, Thankamma & Valsamma. Oommachen died on 9th September 1977 and was laid to rest in Chengaroor Orthodox Church.
Molly is married to V. V. Mathukutty, Sankaramangalam Valyathannickal, Eraviperoor.
Thankamma is married to Thomas, Charuvil, Pandalam.
Valsamma is married to Chacko, Pallivadakkethil, Mavelikkara.
Joy Oommen: He was doing Cotract works and other business for some time. He was interested in social and political activities in his early days. Wife Lissy is the daughter of K. C. Zachariah, Kadavil, Thumpamon. They have a son by name Mohan Oommen and three daughters: Binu, Bindu & Bijini.
Binu is married to Kochumon, Kannamala, Puthusserry.
Bindu is married to Sam Joseph s/o. Joseph, Cherathode Thekkanal, Mallappally.
Bijini, after education staying back home to help her mother in domestic matters.
Mohan Oommen: After education he is working in Bangalore.

PHILIPOSE :
(The 2nd son of Mundolil Ninan):


He was a very clever person and good in agriculture. Married Aliyamma a member of Puthiyedath family.
He had a son: M.P.Ninan (Kunjoonju) and three daughters: Achiyamma, Annamma and Aliyamma
Achiyamma was married to Abraham, Theveril, Veeyapuram.
Aleyamma was married to Oommen, Kochukoickal, Moothedathu.
Annamma was married to Abraham, Peedikayil, Omallur.

M.P.NINAN(Kunjoonju):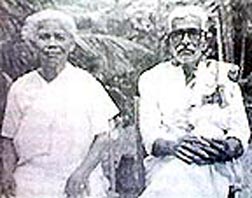 After education he worked as Estates writer in places like Mysore, Kozhikkodu etc. He earned lot of properties due to his hard work and industry. He later started concentrating in the cultivation of Cocoa , Nutmeg, etc, became very successfull and thus established a steady source of income. He died on 14-10-1964. Wife Mariamma was the daughter of Koshy Yohannan, Piramattakkara Alummoottil, Pandanadu.
They have two sons: M.N. Philip (Thankachan) & M.N. John (Johnykutty) and two daughters: Aleyamma & Chellamma.
Aleyamma is married to K. V. Chacko, Kandathil (Kakkolil), Kaviyoor.
Chellamma was still a student when she died.
M.N.Philip-B.E.(Thankachan): He passed B.E. Degree in Chemical Engineering from Annamalai University and have worked in many Companies in very senior positions. He was consultant and Advisor for many companies in and around Madras. Lately he was running his own factory in Madras.
He married Leelamma, the only daughter of Pothen, Kandathil, Kattode, Tiruvalla. The share he inherited from his father together with his wife's properties, he was owning a lot of landed properties in and around Kallooppara and Kattode in addition to his huge savings in cash from his profession, earned him a place among the early millionaires in the area.
They have two sons: Mohan & Babu and one daughter: Mini.
Mini is married to Zachariah, Thannikkamoolayil, Kattode.
Mohan Philip:Passed M. Com. And working as a teacher. Wife Shanthi-B.Com. is from Thevarvelil family, Kozhencherry. They have two sons: Ajai & Rofith.
Babu Philip:After education he had some interest in Film production and the first Film he produced in parnership with two others, Nokkethatha Doorathu Kannum Nattu was a big success. He is now engaged in stock broking and Realestate business. He is unmarried.
M.N.John (Jonnykutty):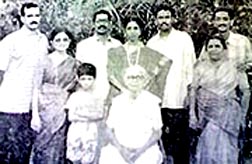 After education he started helping his father in family matters. After the death of his father the full responsibility of managing the land and cultivation was vested in him and he is looking after everything very efficiently. He has served as Vice President of both Vadakethalackal Maha Kudumbayogam and Maret Shakha yogam. Wife Sosamma (Molly) is the daughter of K. J. Alexander, Mundakathil (Kurudamannil), Ranni.
They have two sons: Ninan John (Joemon) & Alex M. John (Jaimon) and two daughters: Jolly & Jessy.
Jolly is married to Rajan, Puthen Benglavil, Muthukulam.
Jessy is married to Cherian s/o. George, Ayyankovilil, Thelliyoor.
Nina John (Joemon): After passing B.Com. he was running his own business in interior decoration. He was the Magazine Edotor of Vadakkethalackal youth Wing. He was also Secretary of Maret Kudumbayogam.
Alex M. John (Jaimon) : After education he is helping his father in family matters and also taking care of the furniture and interior decoration business.
OUSEPH :
Third son of Mundolil Ninan, married from Kayyalath, Mallappally. They had no children. He later distanced himself from married life and started leading a spiritual and religious life. He donated his entire properties to the Catholic Mission at Changanacherry. Eittickal church (Lourdh church) was constructed for his own use and it was modified later by Changanacherry Mission.
He died on 30-06-54 and was burried in Eittickal church.


This Page :
Designed & Maintained by jomaret
And Hosted by Tripod Inc.