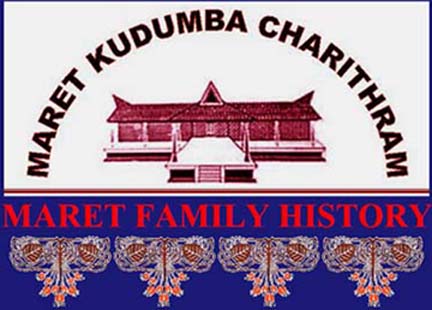 |
Home
|
Heritage
|
Family Tree
|
Upashakha
|
A Happy Occasion
|
Kudumbayogam | Kudumbayogam Schedule | Vadakkethalackal Mahakudumbam | Photo Gallery | News & Events |

HERITAGE
Ninan, (The youngest son of Idichandy who is the forefather of Vadakethalackal Mahakudumbam), is the founding grand father of Maret Shakha. ( Click Here for Vadakethalackal Family History).
Ninan who was the Ruler's representative of Mavelikara, married Achamma, sister of Valiyapanicker and Kochupanicker from the ancient Adangappurathu family at Puramattom, Kallooppara. The present Panchayath areas such as Kallooppara, Puramattom, Mallappally, Anicuad and Kottangal were all under the so called Kallooppara at that time. This old kallooppara, which was about 36 square miles in area was the private property of Edappallil Rulers,"Thampuran".
Ninan had two sons and a daughter: Oommumman**, Avira* and Acharu; and all of them were brought to Adangappurathu family by their maternal uncles after the death of Ninan at an early age. Oommumman and Avira were known for for their personality and intelligence even when they were very young. The Edappalli Rulers happened to see them and were invited to the palace for a meeting with the Rulers at that time and the Rulers became very much impressed in their abilities. Later on Oommumman** was appointed as the Rulers Represetative to Kallooppara, a rare opportunity which made him very popular and respected among the people of Kallooppara. And it was during this period Oommumman** acquired lot of immovable properties and gold. The name and fame of Maret family became envious and stood foremost among the contemporary christian families in Kallooppara.
Elder son, Oommumman** is the founder of Maret Family. The so called Maret Property was bought for Oommumman** after his marriage to Annamma daughter of Kochukora Tharakan of Munnoottinalpathil, Pulimkunnu, Kerala.


This old house at Maret(Tharavadu)is said to have been constructed as per the special instructions from Edappalli Ruler and under the supervision of Indamthiruthil Panicker for Oommumman**.
Oommumman's** younger brother Avira, after his marriage, moved to Kavumgumprayar, Kumbanad, and settled in "Ooriyeppadickal" which was a land bought for him by Oommumman**.And it was Avira who established Ooriyeppadical Shakha.
Their sister Acharu was married to Thulakkaran Muthalali's family, at Kottarakkara.
Oommumman** was one of the prominent office barers of St. Mary's Church, Kallooppara. The land in front of the Church including the court-yard was bouhgt by Oommummen** in his own name raised compuond walls and donated to the church. He also kept paying the taxes for this land till he died in 1009 at the age of 57. He was burried in St. Mary's Church, Kallooppara.
After giving birth to one son and a daughter Oommumman's** wife died, when he was only 30 years old. He refused all proposals for a second marriage for the sake of his children, which, he thought will hamper the children's future. Son's nane was Ninan*** and daughter Achamma.
Achamma was married to Kunnil, "Vicharippukaran" of Champakulam who inherited huge wealth in his own rights. Oommumman's** son Ninan*** married Achamma, sister of Vattacheril Mar Deevanniyasiose Metropolitan's father. Ninan*** not only continued to keep up the name, fame and financial status of his father, but also acquired more properties in places like Chengaroor and Kunnamthanam. Ninan*** also did not live long, died at the age of 41 in the year 1020. Ninan*** had five sons, the fifth son died when he was only a child. Others were: Oommumman***, Ouseph, Avira and Kora.
Kora died at the age of 20 and was married from Sankaramangalam family.His wife was re-married to Poothicottu family, Mepral and registration director Kuruvila Varkey was her son in this marriage. Those lived, Oommumman***, Ouseph and Avira divided their belongings and established the three main sub-divisions namely Mundolil, Manayammannil and Maret* respectively.